Register here.
For information on past sessions, visit our symposium archive page.
SPEAKER: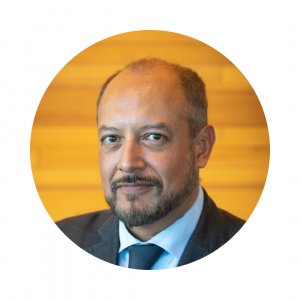 Dr. Jorge Aburto
Project Leader and Head of Biomass Conversion Division
Mexican Petroleum Institute
"Bioenergy Initiatives of the Mexican Petroleum Institute"
The Mexican Petroleum Institute (IMP) is a national research institute on petroleum, gas and bioenergy. IMP also brings technical support to PEMEX, the national oil company, as well as other energy industries in Mexico and abroad. IMP is dedicated also to consulting to the Mexican Energy Secretariat's (SENER), other governmental offices and private companies.
IMP has been working on different bioenergy initiatives that will be presented:
Production of green diesel and bio jet fuel through the HEFA process

Production of biobased chemicals for the transport of heavy and extra-heavy oil through pipeline

Techno-economic studies for the generation of thermal and electricity power to agroindustries.
About Dr. Jorge Aburto:
Dr. Jorge Aburto holds a B.Sc. in Food Chemistry from the National Autonomous University of Mexico (UNAM); the Diplôme d'Études Approfondies (DEA) and Ph.D. from National Polytechnique Institute of Toulouse (INPT), France; and was visiting Researcher in the AgroBiotechnology Institute (IFA-Tulln) from the Agricultural University of Vienna (BOKU), Austria.
Dr. Jorge Aburto is Researcher at the Mexican Petroleum Institute (IMP) since 2000 and he is actually Project Leader and Head of Biomass Conversion Division and in charge of the Division of Energy Efficiency and Sustainability. Dr. Aburto's main research areas are bio-based chemicals and materials for applications in the petroleum industry, biomass deconstruction and conversion, production of lignocellulosic ethanol, on-road and aviation fuels, enzyme kinetics and applications to the oil industry, petroleum biorefining, precipitation inhibitors of asphaltenes, and petroleum pipelining through O/W emulsions. He is Author of several international articles, book chapters, and patent applications and patents. He participated in the awarded biorefinery project by the 2016 silver prize PRODETES category recognized by Mexico´s Energy Secretariat (SENER), the World Bank and the Global Environmental Facility (GEF). Likewise, Dr. Aburto has graduated 32 Bachelor of Science, 3 Master of Science and 2 Doctorate students. Currently, Dr. Aburto is part of the Academic Technical Council of the Bioenergy Thematic Network sponsored by CONACyT, is technical leader in the IMP of the Mexican Center for Bioenergy Innovation (CEMIE BIO), clusters of biojet fuel and solid biofuels. He is currently a Level II National Researcher recognized by SNI-CONACyT. Dr. Aburto was designated Mission Innovation Champion of Mexico by the Mission Innovation Initiative in 2019 by his contribution and vision on Bioenergy development and deployment in Mexico.
Link to presentation (via YouTube)