Our next monthly symposium guest is Dr. Ataullah Khan Mohammed, Senior Research Scientist and Technical Lead within Bioindustrial Services at InnoTech Alberta. On November 18 from 12:00-1:00pm MST, he'll be joining us to discuss innovative bio-product development opportunities at InnoTech Alberta.
Register here.
For information on past sessions, visit our symposium archive page.
SPEAKER: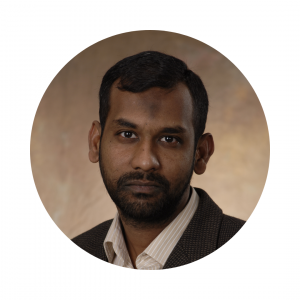 Dr. Ataullah Khan Mohammed
Senior Research Scientist & Technical Lead
Bioindustrial Services
InnoTech Alberta
"Innovative Bio-Product Development Opportunities at InnoTech Alberta"
As one of Canada's premier applied research organizations, InnoTech Alberta (a subsidiary of the Alberta Innovates family) has a long and established history associated with transforming the energy, agriculture, environment, forestry and manufacturing sectors of the province. The Bio-Industrial R&D (BIRD)  portfolio within the Bio-Industrial Services (BIS) Division at InnoTech offers a diverse range of scientific, engineering and technological research and testing capabilities, and unique pilot facilities to support the development of innovative Biomass-based products in energy, gaseous/liquid/solid fuels, construction, forest products, engineered bio-composites, industrial fibres, agricultural -supplements, -inoculant carriers, -organic fertilizers, food/feed additives, flavoring agents and medicinal Cannabis space. In a nut shell, we cover the whole spectrum of terrestrial biomass and its residuals arising from forestry, agricultural, livestock and municipal solid waste operations and our expertise extends all the way from biomass production, characterization, pre-processing, conversion (fractionation), processing (transformation) into more usable high-value bio-products and their end use testing. The BEN talk will focus on showcasing our capabilities, past successes/impacts and future opportunities for prospective innovators and technology developers in the current era of bio-product revolutionization.
Dr. Mohammed is a Senior Researcher and Technical lead for Bio-Thermo Chemical Processing and Biomass Conversion Programs within Bio-Industrial R&D at InnoTech Alberta and also an Adjunct Professor in the Process Systems Engineering, University of Regina. He is also the sector lead for bioenergy initiative at the BQNC (Biomass Quality Network Canada) and a technical committee member on Canadian Mirror Committee to ISO/TC 238:Solid Biofuels. At InnoTech Alberta, his research is focused on biomass thermochemical & thermocatalytic conversion pathways to bioenergy, biofuel, bio-chemical or bio-materials. He is a recipient of 2012 Paragon Award for Innovation for the development of innovative catalysts for feed- and process- flexible hydrogen production. He has 3 patents, 1 book chapter, 2 reviews and 30 research articles to his credit. He also served as a Guest Editor for Special Issue on "Metal Oxides in Catalysis" in Molecular Catalysis Journal, Elsevier, 2018 Issue.
Link to presentation (via YouTube)